[ad_1]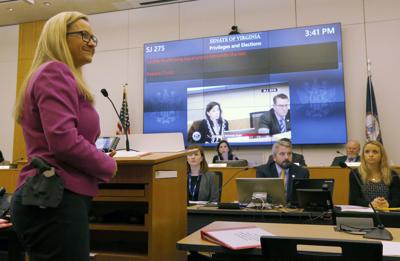 Sen. Amanda Chase, R-Chesterfield, revised a Facebook campaign ad on Friday that groups working for gun control said targeted them with potential violence but her campaign called a "communications oversight."
The ad shows Chase with a pistol at a firing range beneath a message from the senator that originally said, "I'm not afraid to shoot down gun groups."
Campaign manager Philip Search said the third-party media team that produced the ad used an incorrect statement. In the new statement, Chase says, "I'm not afraid to shoot down attacks from any anti-gun groups, because gun rights are women's rights."
"That is the original ad," Search said.
The revised language didn't go far enough for her opponent, Democrat Amanda Pohl, who said, "Mistake or not, it's still violent rhetoric that has to be addressed."
Pohl called on Chase to apologize to gun control groups that felt targeted.
Lori Haas, Virginia director of the Coalition to Stop Gun Violence, took the original statement personally.
"When Senator Chase says she'll 'shoot down gun groups,' she's talking about me," said Haas, whose daughter Emily was wounded in the shooting that killed 32 students and teachers at Virginia Tech in 2007.
"While Senator Chase might not agree with me and other activists who want to prevent gun violence in our communities, she at the very least needs to listen to our concerns and not take out campaign ads threatening to shoot us," she said as part of a news release from Progress Virginia that called on Chase to drop out of the race.
Chase is an unapologetic advocate for gun-owner rights who drew attention earlier this year for wearing a holstered pistol on her hip in the Virginia Senate.
She began openly carrying the .38-caliber pistol at the Capitol in January on the day she was presenting her proposed legislative alternative to the Equal Rights Amendment.
"Sometimes it's a deterrent for over-exuberant folks. Unfortunately in the General Assembly, we see the good, we see the bad, we see all types of things," Chase said in an interview then. "It's just for personal safety, quite honestly."
Her campaign's Facebook ad urges viewers to sign a petition to "Protect your guns."
Chase is seeking a second term to represent the 11th Senate District, which she won with 64% of the vote in 2015 after upsetting Sen. Steve Martin in the Republican primary. The district includes part of Chesterfield County and all of Amelia County.
Pohl called the senator's initial statement in the campaign ad "another example of Senator Chase not being in touch with her district."


[ad_2]

Source link