[ad_1]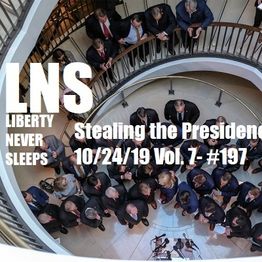 Stealing the Presidency 10/24/19 Vol. 7- #197
The Democrats are trying to steal the presidency away from Trump, and in doing so, America and its unique way of life.
*Halloween Fright House
*Colorado Flub
*Demolition Man
*Storm the Bastille!
*Still Destroying Giuliani
*Hammering Facebook
*Twitter Avoids it
*So What on Putin?
The money pledged thru Patreon.com will go toward show costs such as advertising, server time, and broadcasting equipment. If we can get enough listeners, we will expand
…
See More
the show to two hours and hire additional staff.
To help our show out, please support us on Patreon: https://www.patreon.com/LibertyNeverSleeps
All bumper music and sound clips are not owned by the show, are commentary, and of educational purposes, or de minimus effect, and not for monetary gain.
No copyright is claimed in any use of such materials and to the extent that material may appear to be infringed, I assert that such alleged infringement is permissible under fair use principles in U.S. copyright laws. If you believe material has been used in an unauthorized manner, please contact the poster.
Special Thanks To:
Craig B.
Vanessa A.
Patricia P.
Additionally:
Janet R.
David A.
Marcia D.
Howard R.
Chris S.
Eric M.
Michael L.
Christine R.
Darryl R.
Mirraku
window.fbAsyncLoaded = false; window.fbAsyncPending = []; window.fbAsyncOnLoaded = function(callback) { if (window.fbAsyncLoaded) { callback(); } else { window.fbAsyncPending.push(callback); } };
// Register an event handler for Facebook init window.fbAsyncInit = function() { FB.init({ version: 'v3.1', appId: "215002133707", cookie: true, status: false, xfbml: false });
// Update state window.fbAsyncLoaded = true;
// Execute pending calls for (var i = 0; i < window.fbAsyncPending.length; i++) { window.fbAsyncPending[i](); } window.fbAsyncPending = []; }; // Trick: monitor the "beforeload" event to check if someone else default // prevented the loading of the facebook library window.fbLoadPrevented = false; function _checkFbPrevent(event) { if (event.url && event.url.match('facebook')) { document.removeEventListener("beforeload", _checkFbPrevent); window.fbLoadPrevented = event.defaultPrevented; } } if (document.addEventListener) { document.addEventListener("beforeload", _checkFbPrevent, true); } // Load Facebook library (function(d, s, id){ var js, fjs = d.getElementsByTagName(s)[0]; if (d.getElementById(id)) {return;} js = d.createElement(s); js.id = id; js.src = "http://connect.facebook.net/en_US/sdk.js"; fjs.parentNode.insertBefore(js, fjs); }(document, 'script', 'facebook-jssdk'));

[ad_2]

Source link